CBF of North Carolina's (CBFNC) Welcome House Ministry Team is thrilled to announce it has awarded the first Welcome House Community Network Grant (WHCN) to the Conetoe Family Life Center for the establishment of Welcome House Conetoe. The Conetoe Family Life Center, located in Conetoe in Edgecombe County, is in the process of renovating a double wide mobile home which will be used for transitional housing for vulnerable people living in that area, especially those who are experiencing poverty. The grant money will be used to assist with renovations that will make the home ready for occupancy by end of the summer.
"It is so exciting to see one of our CBFNC ministry partners receive the first Welcome House Community Network Grant. I can't wait to see how God continues to use this grant money and the recipient to share Christ's love around our state," said Susie Reeder, chair of the Welcome House Ministry Team.
Last August in a unanimous vote, the CBFNC Coordinating Council voted to adopt the WHCN as a signature missions program of CBFNC. The network is a collaborative ministry between CBFNC, CBF Field Personnel Marc and Kim Wyatt, local individuals and partner congregations to provide hospitality ministry in a variety of contexts to vulnerable neighbors in local communities across North Carolina.
Anna Anderson, CBF field personnel, partners with the Conetoe Family Life Center to address issues of poverty and is working closely on this project. "With the Welcome House Community Network, CBFNC is expanding hospitality ministry to include housing for every person in any type of vulnerable living situation. For those who are experiencing resettlement, transition from homelessness to safe and affordable housing, temporary shelter for a few months while trying to figure out more long-term housing, sustainable housing options, to a host of other needs, the Welcome House Community Network is encouraging churches throughout our fellowship to sponsor a home for families in their own communities. The Welcome House Conetoe grew from such a dream as this," says Anna.
"I am delighted that the Conetoe Family Life Center is the first recipient of a CBFNC WHCN Grant. This grant bridges the ministries of CBFNC's two "state missionaries", the Andersons and the Wyatts, who are beloved by our CBFNC family. May this collaboration be an example to churches all over our state and beyond to embrace vulnerable neighbors with the love of Jesus," adds Larry Hovis, CBFNC executive coordinator.
Through funding from CBFNC and the annual Welcome Ride fundraising event, grants are available to churches and partners seeking to establish a Welcome House ministry. WHCN Grants are awarded by the Welcome House Ministry Team to CBFNC churches and partners that seek to network congregations, organizations and communities for the purpose of sharing God's love to vulnerable and housing insecure neighbors in their communities through Christian hospitality ministry. Since the WHCN was announced last year, nearly a dozen churches and missions have expressed interest in joining the network.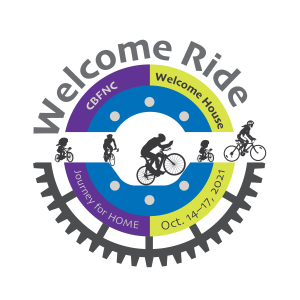 Want to support the expansion of the network? 
Get involved and donate to the upcoming 2021 Welcome Ride, Capital to the Coast, taking place October 14 to 17. All proceeds raised from Welcome Ride will be used to fund WHCN Grants.
To learn more about Welcome House Conetoe and additional needs, contact Anna Anderson at 252-944-6110 or adanderson1215@gmail.com.
Get more information and apply for a WHCN Grant at cbfnc.org/embrace/grants/.
About CBF of North Carolina
CBF of North Carolina is a fellowship of individuals and churches partnering in ministry so that all people may know and believe that they and those around them are loved by God. As a trusted ministry partner to local churches, CBFNC is committed to serving Jesus Christ, preserving historic Baptist freedoms and calling out God's gifts in Christians and churches to engage in ministry in our state and world.  Based in Winston-Salem, CBFNC collaborates with the larger Cooperative Baptist Fellowship network.