16jul2:00 pm4:00 pmFeaturedCultivating Generous Congregations Virtual Seminar

Event Details
Cultivating Generous Congregations Virtual Seminar
Thursday, July 16 | 2:00-4:00 p.m. (EDT)
Join CBFNC for a presentation by the Lake Institute on Faith and Giving.  You and your ministry team are invited to participate in this experience that could change your congregation's approach to giving in these uncertain times. Cultivating Generous Congregations (CGC) is an interactive seminar demonstrating how pastors and ministry leaders can unearth and energize congregational generosity. Presenters will help you explore the significant and necessary steps to creating lasting cultural change within your congregation.
This 2-hour seminar will focus on how churches can get a handle on congregational finances in the present crisis and how to plan for the future in uncertain times.
Space is limited & the cost is FREE. To reserve your spot, click HERE.
Time
(Thursday) 2:00 pm - 4:00 pm EDT
25sepAll Day27FeaturedYouth Beach Retreat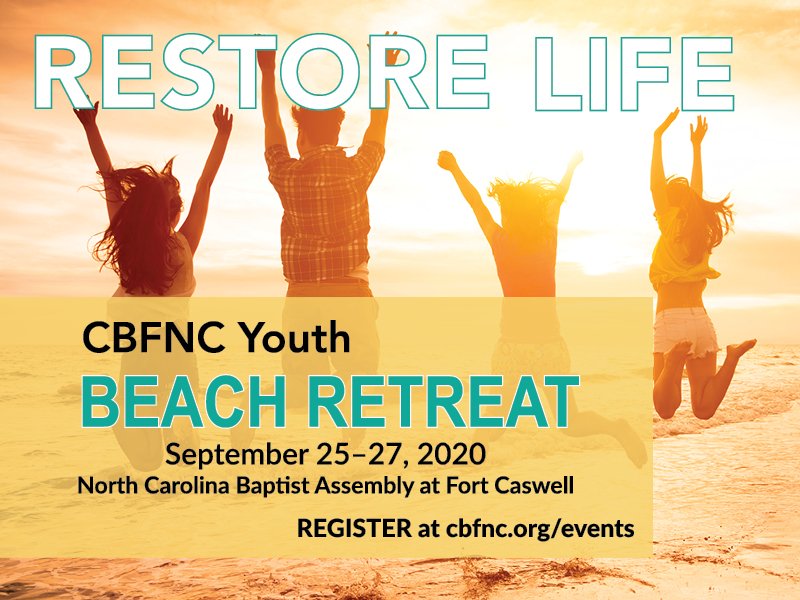 Event Details
Youth Beach Retreat
September 25–27, 2020
NC Baptist Assembly at Fort Caswell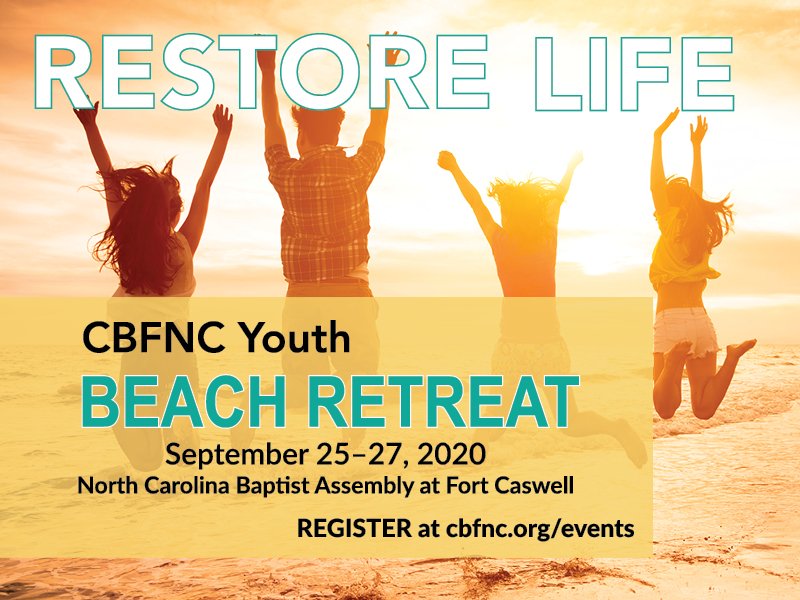 Youth in grades 6-12 are invited to explore and experience ways to "restore life" at this year's CBFNC Youth Beach Retreat! As of now, we are planning for an in-person retreat.  Worship, sand sculpture contest, Bible study, and lots of free time to play on the beach!
Our theme for this year is "Restore Life" using Nehemiah 8:10 as our theme verse to guide our weekend:  "Go and enjoy choice food and sweet drinks, and send some to those who have nothing prepared. This is sacred to our Lord. Do not grieve, for the joy of the Lord is your strength."
Our guest proclaimer will be Yale Divinity Student Tori Crook, and music is provided by Scott England and Band.  Email Andy Jung at ajung@cbfnc.org for more information.
Initial church deposit $250.
Reserve a spot for your church HERE!
Time
september 25 (Friday) - 27 (Sunday)