Red Latina CBFNC Marriage Congress
21octAll Day22Red Latina CBFNC Marriage Congress
Event Details
Friday, Oct. 21-Saturday, Oct. 22
La Voz de la Esperanza Baptist Church, Charlotte
No marriage is the same, however there is something that allows them to be together and happy for a long time, making a difference in families. Resilient marriages rise above challenges and grow stronger with them. Join CBFNC's Red Latina ministry partners for this event to identify habits and strategies that make a couple more resilient from a spiritual and emotional perspective.
Friday, Oct. 21 is for pastors and spouses only; Saturday, Oct. 22 is for the congregation. Cost is $30 per couple (lunch included). Childcare will be provided at an additional cost of $8.00 per child (aged 0-8 years old) to cover lunch.
Registration deadline: October 14, 2022
Congreso de Matrimonios Red Latina – Octubre 21-22
Ningún matrimonio es igual, sin embargo hay algo que les permite estar juntos y felices por largo tiempo, haciendo una diferencia en las familias: su alta resiliencia, que se puede definir como la capacidad que tiene un matrimonio de superar, adaptarse y resistir las dificultades, conflictos, crisis, y obstáculos que se presentan. Los matrimonios que son resilientes se sobreponen a los desafíos y además, se vuelven más fuertes con ellos.
Propósito: Identificar hábitos y estrategias que hacen una pareja más resiliente desde una perspectiva espiritual y emocional.
Inversión: $30 por pareja (Almuerzo incluído)
Habrá cuidado de niños: costo adicional de $8.00 por niño para cubrir el almuerzo.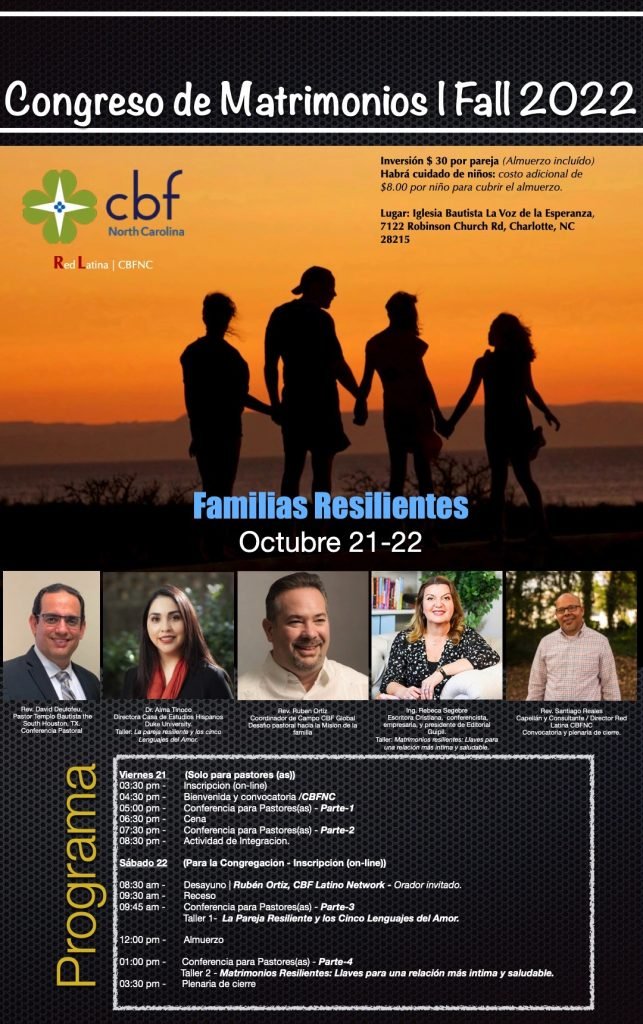 Time

october 21 (Friday) - 22 (Saturday)