Saturday, February 19, 2022
10:00 am. – 3:00 p.m.
Men's conference | Winter 2022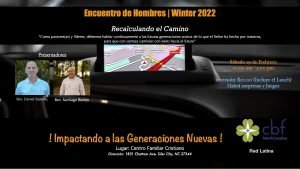 As leaders, we must speak to future generations about what the Lord has done for us so that they can walk successfully into the future, impacting New Generations!
Place: Christian Family Center
Address: 1831 Chattam Ave, Siler CIty, NC 27344
Saturday, February 19, 2022
10:00 am – 3:00 pm
Investment: $10.00 (Includes Lunch)
There will be surprises and games.
Thursday, May 5, 2022 at 10:00 a.m.
This webinar is hosted by the Spiritual Formation Ministry Team.  More details to come!
Thursday, February 24, 2022
10:00 a.m.
This webinar is hosted by the Youth Ministry Advisory Team.  More details to come!
Fuller Youth Institute
January — December 2022
Over the past "five" years, the Fuller Youth Institute (FYI) has taken our groundbreaking research from Growing Young and journeyed with over 500 diverse congregations to help them grow young in their context. We have helped these congregations engage younger generations in ways that breathe life and vitality into the whole church through six essential strategies.
Through CBF Regional Growing Young Cohort, the FYI team will journey with you and help you focus on what's most essential in helping young people discover and love your church. Our advanced training model brings together churches that are committed to growing young for twelve months through: 1) three digital summits; 2) regular online webinars; 3) twelve months of personalized coaching; 4) access to our church-wide version of the Growing Young Assessment; 5) interactive peer learning; and 6) complete six Growing Young Essentials.
Final Registration Deadline: November 30, 2021
• Digital Summits: Summits will be fully online. If state and local regulations allow, we encourage church teams to meet in person during each summit.
• February 17, 2022
• August 18, 2022
• November 17, 2022
• Webinars: The first webinar will take place on January 20, 2022. Additional webinars will take place every 1-2 months and will be scheduled a few months prior. 
Learn more HERE.
Register HERE.
Saturday, February 12, 2022
9:30 a.m. – 12:00 p.m.
Forest Hills Baptist Church (Raleigh)
Join churches across the state as we learn and grow together.  Discover creative ways to "be church" and (re-)connect with those from other churches.  There will be a two-hour seminar offered as well as 13 one-hour seminars (9:45 a.m. and 11:00 a.m.)
Click HERE to see a list of seminars.
Click HERE to read in-depth descriptions of all of the seminars being offered.
Thursday, January 20, 2022 at 10:00 a.m.
Please join us for the last session of our Christian Advocacy webinar series where we have explored advocacy work as a natural extension of our church's commitment to mission work. This session will be held Thursday, January 20 at 10:00 a.m. Mike Darrow, from Feeding the Carolinas, will facilitate our conversation about hunger advocacy.
Unfortunately, North Carolina has continued to rank as one of the states with high rates of food insecurity. Add to that a pandemic, and hunger has become a critical issue. In this webinar, Mike Darrow, Executive Director of Feeding the Carolinas, will share the work of the Food Banks in the state as they work to feed those in need, and what we can do to help. Hear about the feeding network, how it works, and the challenges and opportunities for us all as we tackle a fundamental human issue. A brief presentation followed by a dialogue/Q&A, this session is meant to educate, inform, and motivate us as we work to make sure no one goes hungry in North Carolina.
Register HERE.
Sábado, 6 noviembre | 9:00 a.m. – 3:00 p.m.
Mujeres de Influencia: Impactando a Nuestras Generaciones
"Como pastores(as) y líderes, debemos hablar continuamente a las futuras generaciones acerca de lo que el Señor ha hecho por nosotros, para que con certeza caminen con éxito hacia el futuro"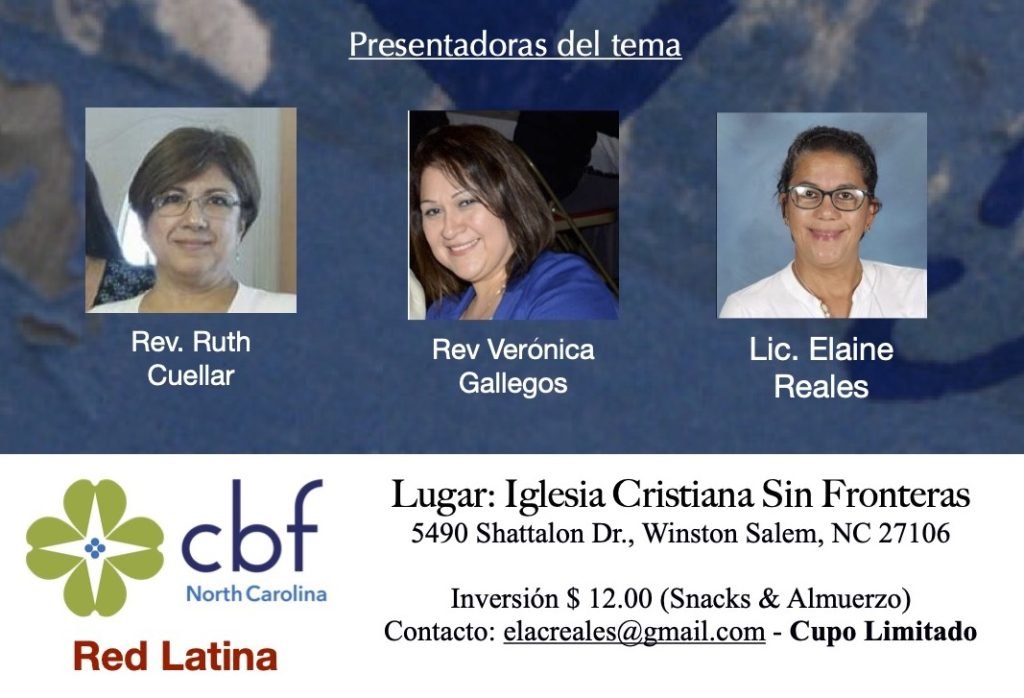 Lugar
Iglesia Cristiana Sin Fronteras
5490 Shattalon Dr.
Winston Salem, NC 27106 
Inversión $12.00 (Snacks & Almuerzo)
Contacto: elacreales@gmail.com – Cupo Limitado
Haga clic aquí para acceder al folleto.
Thursday, October 21   |   11:30 a.m. – 1:30 p.m.
Missing the fellowship of colleagues in pastoral ministry? All pastors are invited to a lunch gathering at FBC Hickory on Thursday, October 21 from 11:30 a.m. – 1:30 p.m. Join CBFNC Executive Coordinator Larry Hovis and area colleagues for a time of fellowship, conversation and networking.
Lunch will be provided by CBFNC, but you need to make a reservation. To do so, please inform Kathryn Ashworth (KAshworth@cbfnc.org) no later than Tuesday, October 19 at 5:00 p.m.
Tuesday, November 16   |   2:00 p.m.
Join other pastors, in a conversation facilitated by Larry Hovis, featuring Stacy Nowell (FBC Huntersville, NC) and Matt King (Augusta Road, Greenville SC) to explore the topic of how we are navigating the constant barrage of changes and challenges that have come with ministry during the pandemic. How have you coped? How are you adapting to an ever-changing environment?  Where are we going from here? How are you planning for the future?
Click HERE to register now!
Tuesday, October 26   |   10:00 a.m.
Earlier this year CBFNC hosted a Christian Advocacy 101 webinar series where we explored advocacy work as a natural extension of our church's commitment to mission work. This fall we will take a deep dive into advocacy work happening in our state and explore ways your congregation can get involved. Join us on Tuesday, October 26 at 10:00 a.m. as Samuel Gunter, executive director of the North Carolina Housing Coalition, facilitates our conversation about housing advocacy.
Click HERE to register now!