Thursday, June 16  |  7:00 p.m. (Eastern Time)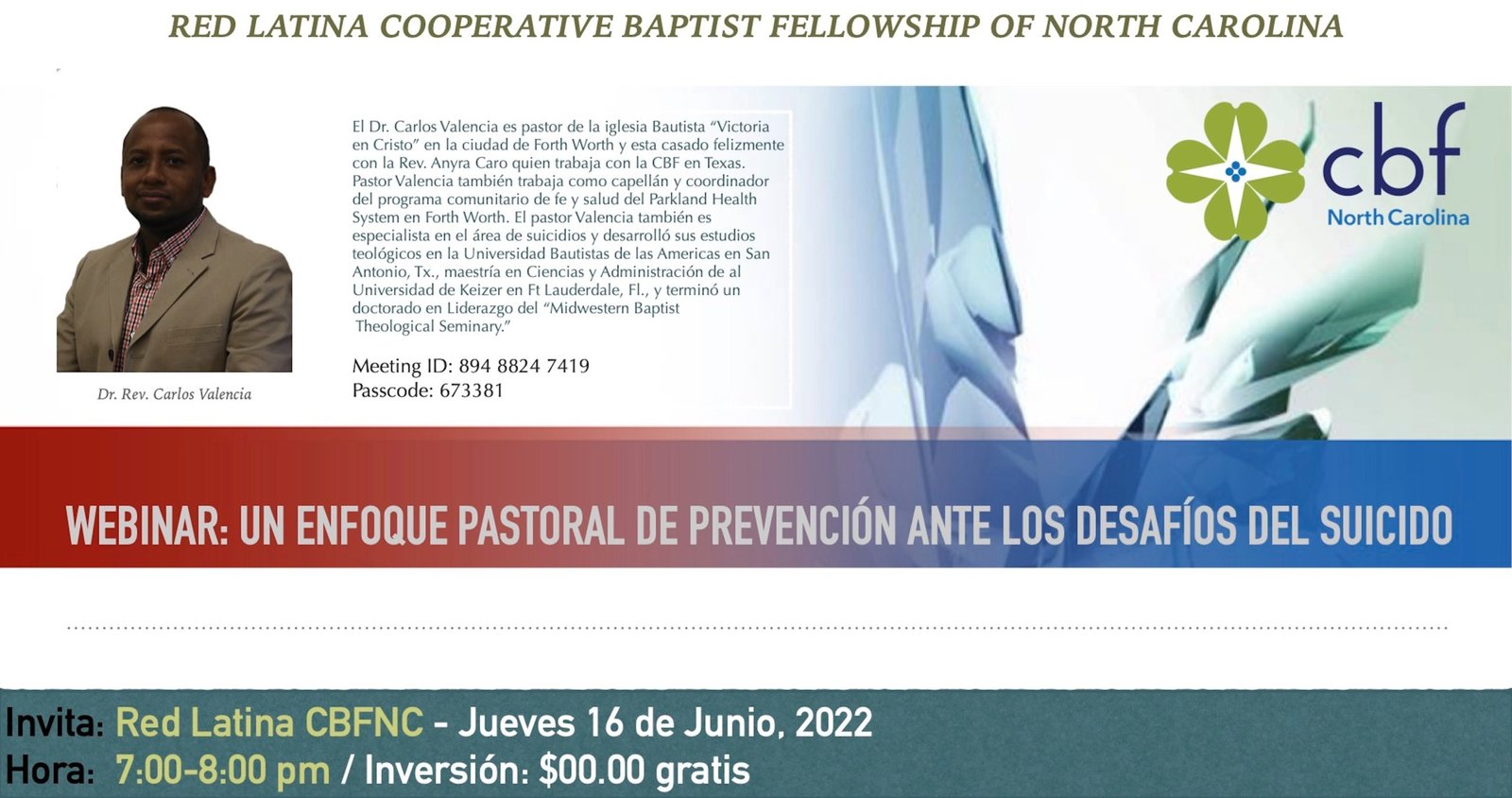 Join Red Latina and our guest Dr. Carlos Valencia to together reflect from a pastoral perspective on the challenges of suicide in the congregation. In this webinar, you will learn some critical steps on how to build a contextualized dialogue on the topic in your congregations.
This Zoom webinar is free and will be conducted in Spanish.
Meeting ID: 894-8824-7419
Passcode: 673381
Save the Date!  
CBFNC will hold its Annual Gathering on Thursday, March 23 and Friday, March 24 at Ardmore Baptist Church in Winston-Salem.  More details in the coming months!
Tuesday, June 21, 2022   |   2:00 p.m.
Presented by the Racial Equity & Justice Ministry Team
Led by Dr. Daynette Snead Perez
Learn three critical steps on how to build diverse relationships in life and ministry and feel confident to prepare your congregation for new church growth.  Join Racial Equity and Justice (REJ) Ministry Team and Dr. Daynette Snead Perez in a discussion of her book, CHURCH: What To Do When Everyone Is Like You.
Dr. Larry Hovis, CBFNC executive coordinator writes, "Daynette Snead Perez provides the church with a much needed guide for dismantling our homogeneity and creating a more biblical approach to community. She provides a strong scriptural foundation, relevant examples and practical exercises that any group of church leaders can use to be 'born again' as a church that moves its orientation toward its community from 'stranger to neighbor.' I highly commend Daynette and this eminently helpful resource."
Register HERE.
CBFNC's Helping Pastors Thrive ministry invites pastors and staff ministers to gather for a time of rest and renewal with a community of their peers on May 15-17 at St. Francis Springs Prayer Center in Stoneville, NC.
The retreat is designed to offer opportunities for worship, spiritual practices, holy conversation with colleagues and time for quiet and rest. It will NOT include intense educational programming, content about things happening in CBF or CBFNC life or prognostications about post-pandemic church.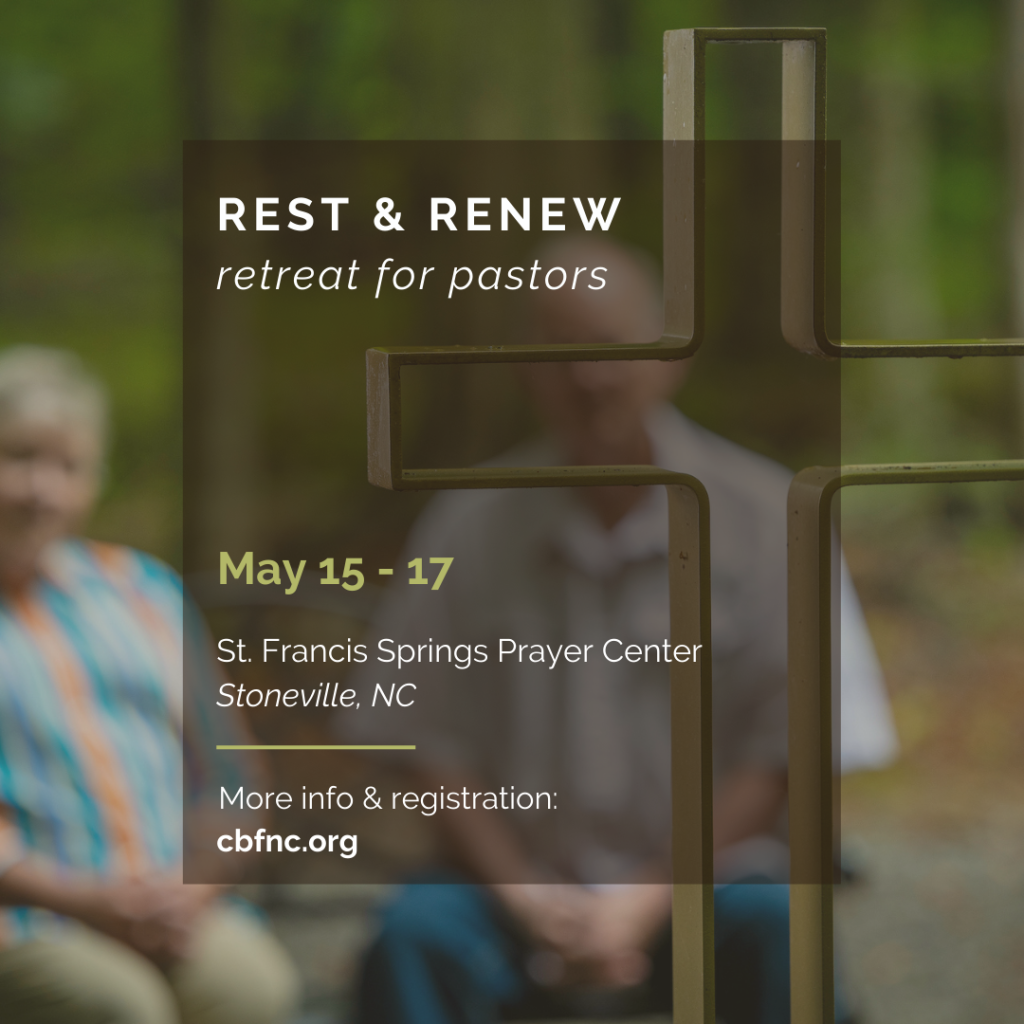 Check-in will be from 3:00 p.m. to 5:30 p.m. on Sunday, May 15; dinner will be served at 6:00 p.m.
The retreat will end following lunch at noon on Tuesday, May 17.
Cost is $50 per person.
Additional details about the schedule, directions to St. Francis Springs and opportunities during the retreat will be sent following registration.
REGISTRATION EXTENDED TO MAY 10.
Questions concerning the retreat?
Contact Scott Hudgins, director of Helping Pastors Thrive at: shudgins@cbfnc.org.
COME & SEE
Dallas, Texas & Online   |   June 28-30, 2022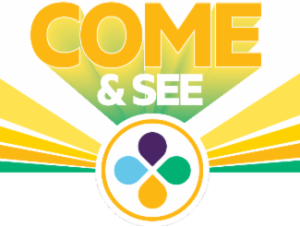 CBF General Assembly returns in-person this year to Dallas, Texas!
You're invited to join your CBF family at the Hyatt Regency Dallas Hotel for a week of learning, worship, inspiration and fellowship. Don't worry, though, if you're not able to make it to Dallas. We're planning a virtual Assembly experience to complement the in-person Assembly experience.
This summer at General Assembly, we invite you to Come & See…
Come & See your friends and colleagues in ministry from across the Fellowship.
Come & See CBF field personnel who minister in the U.S. and around the world.
Come & See what you can share and learn and as we equip each other to seek God's transformation in the world.
Come & See all the ways you can introduce our Fellowship to someone you care about.
Come & See how you can find rest and renewal.
Registration for Assembly and hotel reservations are open now!
Register HERE.
Youth Beach Retreat


October 7-9, 2022
NC Baptist Assembly at Fort Caswell
Let's bring our youth back together this fall!
Youth in grades 6-12 are invited to explore and experience ways to "embrace" life at this year's CBFNC Youth Beach Retreat. The weekend will be filled with worship, sand sculpture contest, Bible study and lots of free time to play on the beach!
Our theme for this year is "Embrace" using Esther 4:14 as our theme verse to guide our weekend and to reflect on how we can embrace where we have been, where we are today and what we hope for in the future:
"You have come to royal dignity for such a time as this."
Details:
Cost: Barracks: $120  |  Residences: $140
Church registration begins: May 1
Church registration fee (applied to final balance): $500
Final registration closes: September 26
Final participant list due: September 29
Final information will be sent out 2-4 weeks prior to the event.
The Bible studies will be divided up by church groups and can be led by the youth leader or a CBFNC campus minister. The choice of barracks and residences will be based on first-come, first-served basis.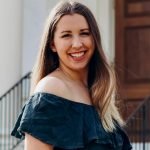 Proclaimer: Tori Crook, Yale Divinity School student and 2021 Passport preacher
Worship Music: Scott England & Band, Singer/songwriter who mixes Gospel, R&B, hip-hop and indie rock influences
Monday, April 18 at 2:00 p.m.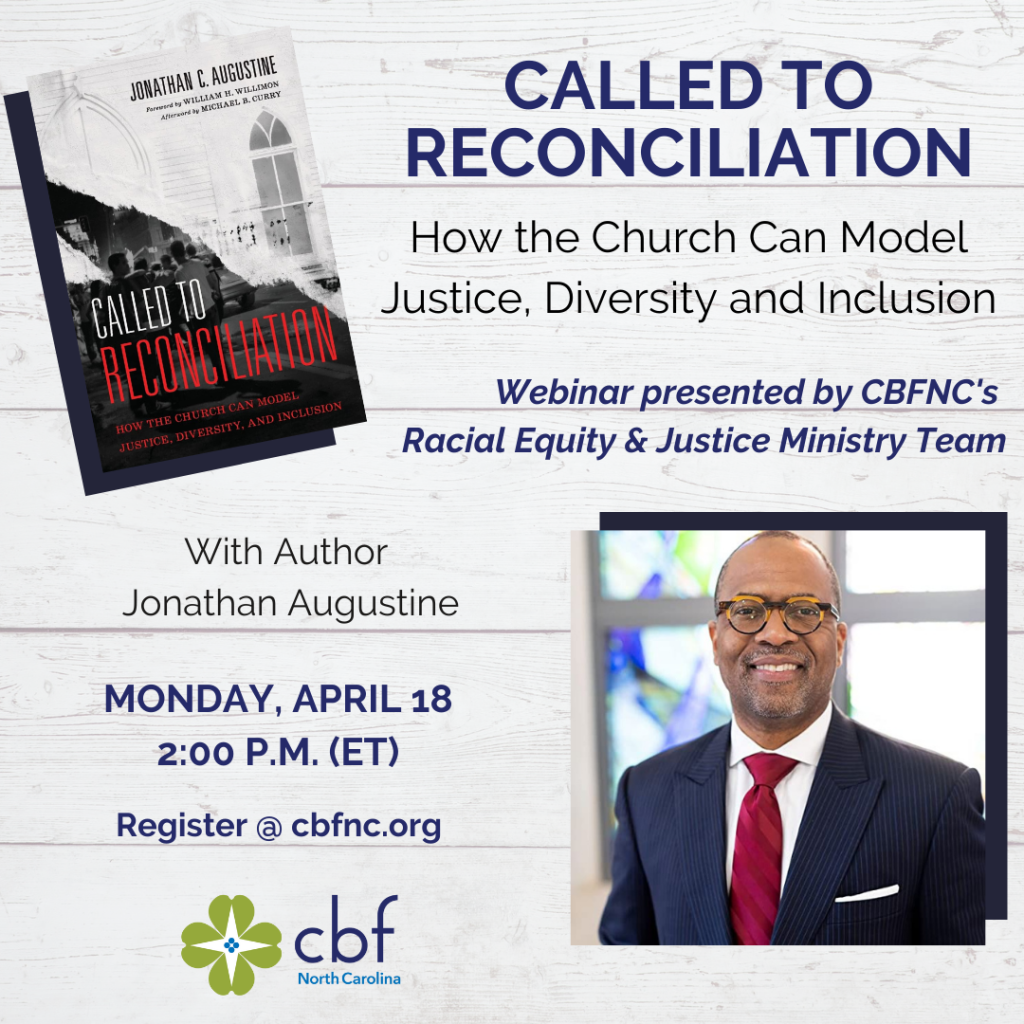 In this webinar, presented by CBFNC Racial Equity & Justice Team, Dr. Jay Augustine will be discussing his book Called to Reconciliation: How the Church Can Model Justice, Diversity and Inclusion.
Jonathan C. Augustine (Jay) is a pastor and professor, as well as an author and advocate.
He is part of a group of national social justice leaders who speak for the equality of all human beings, while advocating for policies of diversity, inclusion and belonging.
You will not want to miss this conversation!
Saturday, March 5 and Saturday, March12 
at locations across the state
The All-State Youth Choir of North Carolina supports and encourages youth choir ministry in North Carolina churches by offering worship and spiritual formation through relational growth, musical development, and performance opportunities. Those selected for the All-State Youth Choir of North Carolina are invited to participate in a week-long retreat and tour each year. The choir presents concerts in North Carolina churches and is involved in other missions and music engagements throughout the entire week. It is the hope that students leave the week with lifelong friendships, a love for choral music and worship, and sincere spiritual discernment. 
Tour is July 17–24, 2022
Tour participation fee is $500 per student.
ASYC is for 9th-12th grade students.
For more information and audition locations, click HERE.
To register for an audition OR to register as a returning student, click HERE. (free)
To register for the tour week and to pay your $500 fee, click HERE.
For questions about the All-State Youth Choir, contact Sherry Thompson at asycncinfo@gmail.com.
Weather make-up dates, if necessary, will be held as needed by the end of March. Our website will have sign-up info and downloadable preparation info for the teenagers auditioning. Please begin sharing this news with your youth choir.
February 27–March 1, 2022
St. Francis Springs

Need some time away to reflect, pray and rest this winter? Helping Pastors Thrive, a ministry of the Cooperative Baptist Fellowship of North Carolina is offering pastors the opportunity to spend time at St. Francis Springs Prayer Center on a self-guided retreat shaped around your needs. With the exception of mealtimes, the retreat is completely unstructured which allows for dedicated time in study, prayer, preparation, and/or rest. 
Pastors may arrive after 3pm on Sunday, February 27, and depart on Tuesday, March 1, after lunch. Helping Pastors Thrive is making this opportunity available for $50 per participant ($100 per couple). The cost includes private room and bath as well as all meals. 
Register HERE.
Questions concerning the retreat? Contact Scott Hudgins at CBFNC (shudgins@cbfnc.org).
Thursday, February 24  |  10-11:30 a.m. (ET)
Youth Ministry Webinar
This 90-minute webinar for youth ministers and leaders will promote awareness of adolescent mental health issues and provide resources for leaders to help normalize the conversations around adolescent mental health. It will include presentations from mental health professionals, as well as a panel discussion and time for questions and conversation.
Webinar Leaders:
Amy Russell, associate minister at First Baptist-Henderson
Brandon Russell, licensed clinical mental health counselor
Haven Parrott, manager of Bereavement Services at Transitions Life Care and member of Oxford Baptist
Tyler Roach, associate pastor of Families, Formation, and Community Engagement at The Memorial Baptist-Greenville
This webinar is FREE and open to all youth ministry and leaders. Please register in advance HERE.