Providing support and scholarship assistance to students engaged in theological education is an essential part of CBFNC's work.  In 2008, Cooperative Baptist pioneers Dr. Randall and Lou Lolley worked with CBFNC to establish the Lolley Endowment for Theological Education to fulfill their dreams of supporting men and women preparing for ministry.
The Lolley Scholarship is CBFNC's most prestigious scholarship. It provides financial support to students pursuing a Master of Divinity at any of the four partner divinity schools in North Carolina. Candidates are nominated by someone who can speak to their outstanding promise for Christian ministry and leadership. Through generous individual and congregational gifts to the Lolley fund, CBFNC is able to support students for all three years of their Master of Divinity program.
Please join us in congratulating the 2023 Lolley Scholarship recipients:
NORA CROUCH
Master of Divinity, Wake Forest University School of Divinity
Home Church: Ardmore Baptist Church, Winston-Salem
"I want to be part of the change when it comes to church hurt. I desire to uplift women and minorities who have been pushed aside and oppressed. I believe it is important to break the
stigma of mental health in the church. I do not believe that I should force my beliefs on others but should welcome all and let God's love take over.
I enjoy sharing the gospel and educating others about Christianity. However, I believe there is a safe way to do that without being harmful. Divinity School has opened my eyes to all the potential for change. It has opened my heart to a diversity of people. It has grown my empathy drastically. I hope to be part of the change that the church needs in order for Christ to do His good works."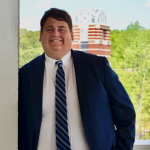 NATHANIEL HORTON
Master of Divinity, Campbell University School of Divinity
Home Church: Zebulon Baptist Church, Zebulon
"I was asked by a coworker last summer how I feel to be called as a
minister. I answered that it felt right; it felt natural. Being able to guide and support people along their spiritual journey, helping to find a path for those lost in the hectic nature of life and spending time fellowshipping and growing with other believers feels like a challenge I was called to tackle.
Ministry in church is important, but ministry should not just happen in a church building. Ministry should happen in all the different areas of our lives. Whether it is in a church, in our communities, in our homes and even at a rowdy East Carolina tailgate, we should all
minister to others through our speech, conduct, love, faith and purity."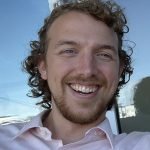 BAKER LAWRIMORE
Master of Divinity, Duke Divinity School
Home Church: First Baptist Church, Greensboro
"Music ministry, teaching and pastoral ministry all have so much in common. I feel called to no ultimate position. I do, however, feel called to a closer walk with God. This is what I seek in my vocation and in my studies Duke Divinity School.
The potential for spiritual and vocational growth through this degree program is thrilling to me. What will it look like to be further educated in the faith, to better understand God's love and the stories of God's people? Could it look like pastoring a church? Teaching a choir? Directing music for children and youth? Whatever the journey brings, I seek to walk in my vocation to the step of a familiar tune, singing the song CBF has been singing for years."
Nominations for Lolley Scholarships are due at the end of February each year for the upcoming fall term of the next academic year. A committee of previous Lolley Scholars reviews the nominations and awards the scholarships. Each scholarship is valued at $5,000.00 per year and is renewable for up to three years. Since its inception, the CBFNC Lolley endowment has supported 20 students.
Click here to learn more or to support the theological education of future ministers by making a contribution to the Lolley Fund online. You may also contribute by mailing a check to CBFNC, 2640 Reynolda Road, Winston-Salem, NC 27106.
About CBF of North Carolina
CBF of North Carolina (CBFNC) is a community of individuals and churches partnering in ministry so that all people may know and believe that they and those around them are loved by God. As a trusted ministry partner to local churches, CBFNC is committed to serving Jesus Christ, preserving historic Baptist freedoms and calling out God's gifts in Christians and churches to engage in ministry in our state and world.  Based in Winston-Salem, CBFNC collaborates with the larger Cooperative Baptist Fellowship network