Jamie M. Rorrer Joins CBFNC as Director of Communications
CBFNC is excited to announce that we have a new staff member.  Jamie M. Rorrer joined our team on January 6th as our Director of Communications.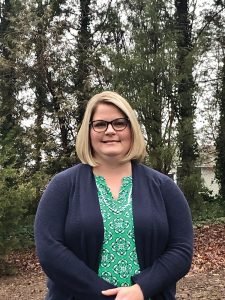 This is a new, strategic position for CBFNC that was created at the end of last year.  In this role, Jamie is responsible for setting and guiding the overall strategy for all our communications to ensure consistency in conveying our mission and brand.  She will be managing all communication activities and building external relationships with CBFNC constituencies, including clergy, laity and ministry partners.
Jamie brings 20 years of experience in the communications field to CBFNC.  She is a seasoned communications professional with experience leading organizations through rebranding and brand management; proactive public relations and media relations; developing and implementing integrated communications plans; writing in a variety of mediums; and digital and social media expertise.
Throughout her career she has worked with non-profits, small and large private companies, and governmental agencies across North Carolina.  Her background includes both agency and independent consulting experience in integrated marketing and public relations.  She has experience providing communications expertise in the fields of education, travel and tourism, economic development, government, political campaigns and health care.
"Jamie is a welcome addition to the CBFNC team. Her unique experience and skill set will enable us to be more strategic and effective in sharing the good news of our fellowship, including churches and ministry partners. I truly believe God has sent her to us for such a time as this," said Larry Hovis, executive coordinator.
Prior to joining CBFNC, Jamie operated an independent public relations and marketing consulting business. She has provided PR and marketing services to the Rockingham County Center for Economic Development, Small Business & Tourism; the Rockingham County Tourism Development Authority; Burke Development, Inc.; the City of Winston-Salem; Salem Windows and Doors; Amazon Home; Family Services; Financial Pathways of the Piedmont; Salem Academy & College; and the University of North Carolina at Greensboro's Department of Theatre.
"We are thrilled to have Jamie on our team. Her experience and leadership will help CBFNC to better tell the stories of our Fellowship to our clergy and lay leaders. Her fresh perspective will be an important asset as we continue to strengthen our ministry within our state and beyond," said Andy Jung, associate executive coordinator.
"I am honored to be part of the CBFNC team and to be lending my skills and talents to the organization's mission, which is ultimately kingdom building.  It's refreshing to be part of a team of mostly newcomers with leadership who are open to new ideas," said Jamie.   "I'm looking forward to working with everyone in the CBFNC family to tell our story."
Jamie received her Bachelor of Arts in Communication, with a concentration in Journalism, from Salem College in 1999.  She and her husband, also named Jamie, live in Kernersville.  They have two children, Anna (16) and Aiden (12), as well as a golden retriever named Dozer.
In addition to her professional experience, Jamie also brings ecumenical diversity to CBFNC.  She grew up in the small congregation of Leaksville Moravian Church in her hometown of Eden.  Today, her family is active in First Presbyterian Church in downtown Winston-Salem, where she has been a member for 20 years and currently serves as a Deacon.
Please join us in welcoming Jamie, and feel free to reach out to her at jrorrer@cbfnc.org.