By Rev. Amy Starr Russell
Associate Minister-First Baptist Church, Henderson
The "Protective Gown Project" of First Baptist Church in Henderson began as a voicemail with a simple request for 5 tables and the use of the fellowship hall in early April 2020. FBC members Nancy Noel and her son Dr. Robert Noel had an idea and a vision for how we might help our local hospital and healthcare workers.
In March and April, PPE had entered the collective consciousness as personal protective equipment and Dr. Noel, a surgeon at Maria Parham Health (MPH), was encouraged by the local effort to make masks. However, he was concerned about the potential shortage of protective gowns for the nurses as well as others on staff at MPH (a concern shared by many rural hospitals in the nation).
Nancy got to work, wanting to keep her son safe and help her community. She developed a pattern based on a YouTube video using a disassembled protective gown. Along with other church members, Ken and Jody Long, the pattern was perfected and approved by the hospital. Several thicknesses of plastic sheeting were tested and we settled on 1.5 mil, 12 ft wide, length varying from 50 ft. to 200 ft. Lowes Home Improvement donated our initial supply of plastic and with the purchase of additional plastic sheeting, packing tape and double-sided tape we were ready to get started.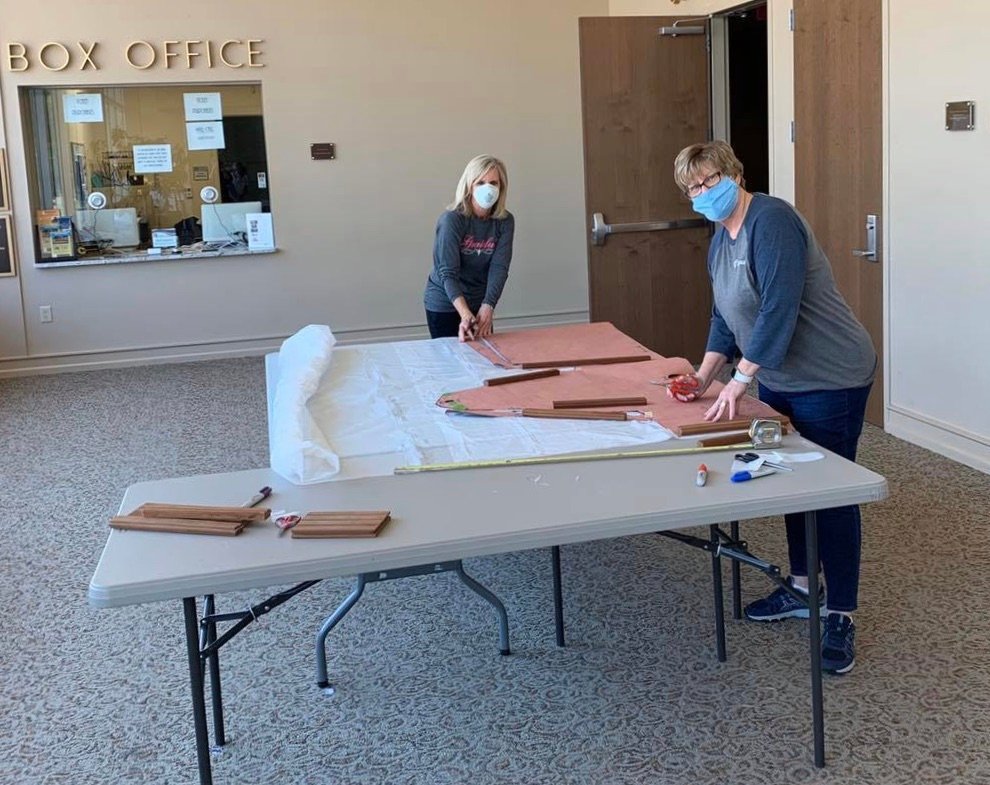 Dr. Noel set up strict screening guidelines for our volunteers. Upon arrival each volunteer had their temperature taken, verified they had no symptoms of Covid-19, and no known exposure to anyone with the virus. During each shift social distancing was enforced as well as good hand hygiene and masks were worn at all times. We averaged 10-12, 2.5 hour shifts each week.
Initially we intended to use the FBC fellowship hall but that space was undergoing minor renovations at the time so FBC's Minister of Music, Mark Hopper, offered the use of McGregor Hall. McGregor Hall is a 1,000 seat performing arts theater in downtown Henderson and because of the shelter-in-place order all operations were at a standstill. In hindsight, McGregor Hall was the perfect location for many reasons. The space met our social distancing requirements, maximizing the number of volunteers each shift. More importantly, it allowed the project to blossom into a true community effort rather than just a project of FBC.
The primary goal of this project was to produce protective gowns for our local healthcare workers. However, there were many fringe benefits that emerged over the course of our project. The project gave our local community a tangible way to contribute to the welfare of our healthcare workers. It gave our volunteers a way to safely maintain a sense of community among their friends and family. It allowed new connections to be made and new friendships to be formed. The Henderson community's generosity was on full display through their support and investment in this project.
Reflecting on this experience, I realized the Spirit was moving, forming, shaping, giving breath to an idea springing forth from our joint imagination.  Not one of us envisioned what this project would become but we had hope and a belief in our church and our community to come together in a time of need. In the end, FBC hosted the Protective Gown Project for seven weeks with over 3,500 gowns assembled for Maria Parham Health and two local nursing homes experiencing outbreaks of Covid-19. But this project did not end with FBC. As we wrapped up our time hosting the project, First Presbyterian Church of Henderson picked it up. It has continued for an additional four weeks producing over 1,000 more gowns. We continue to be grateful for the unexpected gift of this project during these uncertain times.