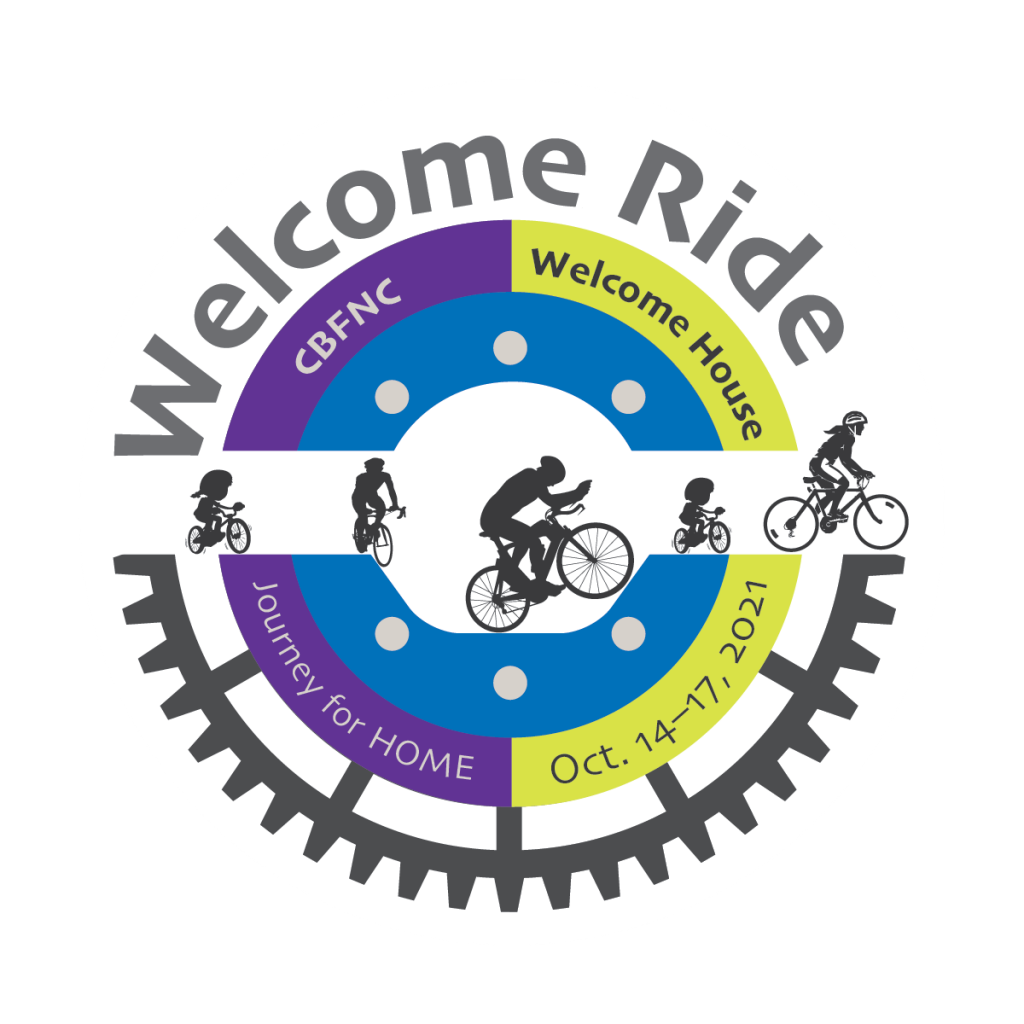 Join the Journey for Home!
October 14-17, 2021
Welcome Ride 2021—Capital to the Coast—is returning this year to raise awareness and funds for CBF of North Carolina's new missions program, Welcome House Community Network (WHCN). The emerging network seeks to extend Christian hospitality in the form of temporary housing and community outreach to vulnerable people in every NC city and town.  
*With the current crisis of Special Immigration Visa (SIV) refugees arriving from Afghanistan, Welcome Ride 2021 is more important than ever. There is an URGENT need in North Carolina for temporary housing for these Afghan refugees who helped our American troops that will be arriving in the coming weeks and months. This year's Welcome Ride takes on a whole new meaning as assisting these new neighbors will be a longer-term effort. Not only will they need housing, furniture and supplies, but there will be significant monetary needs to help these families resettle and restart in the United States. Please join in welcoming these vulnerable neighbors by generously giving to Welcome Ride.*
Over a four-day period, October 14-17, 2021, CBFNC Executive Coordinator Larry Hovis and a small cycling team will ride from the bustling state capital to the beautiful NC coast. Every CBFNC congregation is invited to join the mission and the mandate of embracing vulnerable neighbors by giving generously to sponsor Larry's team and conducting their own Welcome Ride activities. Proceeds raised will be used to provide seed grants to churches throughout the state to start new Welcome House ministries.
Last year's inaugural Welcome Ride raised over $20,000! Our goal is to exceed that in 2021.  Follow Larry and his Welcome Ride team as they bike from the capital to the coast on CBFNC's Facebook and Instagram pages.
Watch this special video message about Welcome Ride 2021
2 ways to get involved 
Make a donation to sponsor Larry's team.  Give online HERE or mail a check to CBFNC, 2640 Reynolda Road, Winston-Salem, NC 27106.
Conduct your own Welcome Ride & Facebook or email fundraiser for CBFNC (fun for individuals, families, churches, small groups, youth groups, etc.)
How to Conduct Your Own Welcome Ride
While the feature of this event is to follow Larry and his team from the state capital to the coast, you can join the fun from a distance! Show your support and help us raise money by doing your own Welcome Ride anytime during the month of October. The best part is that you can choose how to do your journey—walk, run, bike, skate, paddle, swim, you name it. Families are encouraged to get the kids involved on their tricycles, scooters, power wheels, hover boards, etc. Youth groups, small groups, college groups and any others are encouraged to participate together in our own Welcome Ride activities. Choose the activity, distance and duration that is meaningful to you or your group.
Click HERE to learn how to do your own Welcome Ride AND to learn how to do a Welcome Ride email fundraiser.
Click HERE to read about the Welcome House Community Network.
Welcome Ride 2021 Route
Thursday, October 14 
5:30 p.m. – Commissioning of Welcome Ride at First Baptist-Raleigh (Salisbury St.) with a small group of invited guests.
Videos will be available on CBFNC social media.
Friday, October 15 
9:00 a.m. – Departing Zebulon Baptist-Zebulon
11:00-Noon – Arrive at First Baptist-Wilson
2:00-3:00 p.m. – Arrive at the Conetoe Family Life Center in Conetoe
4:30-5:30 p.m. – Finish at Oakmont Baptist-Greenville.
Saturday, October 16
9:00 a.m. – Departing Snyder Memorial-Fayetteville
Noon-1:00 p.m. – Arrive at First Baptist-Lumberton
3:00-4:00 p.m. – Finish at First Baptist-Whiteville
Sunday, October 17
9:00 a.m. – Worship at First Baptist-Wilmington
11:00 a.m. – Worship at Winter Park-Wilmington
(Times are approximate; please follow CBFNC Facebook & Instagram for updates during the ride.)