Meet Our Campus Ministry Engagement Team
Tierney Boss
Appalachian State University Campus Minister
Adrian Bullock
Triangle Region Campus Minister
Email: abullock@cbfnc.org
Phone: 336.759.3456
Adrian J. Bullock serves as the Triangle Area Campus Minister for the Cooperative Baptist Student Fellowship, the collegiate ministry of the Cooperative Baptist Fellowship of North Carolina. He began in this role as the interim campus minister in January 2021 and in the full-time role in September 2022. Adrian continues in the rich legacy of serving the following colleges and universities: North Carolina State University; University of North Carolina at Chapel Hill; Duke University; Meredith College; and Wake Technical Community College. This position offers Adrian the opportunity to cultivate leaders, engage in spiritual formation, connect with local CBF churches, build bridges for student success in both ministry and professional fields, aid in pastoral care for students, faculty, and community members.
In addition to this role Adrian has served in CBFNC life for several years. He has served as co-facilitator/ director of Growing Stronger: Understanding Race and the Christian Call through CBSF. This forum connected Historically Black and Baptist Colleges and University campus ministries across the state of North Carolina. The topics focused on race and justice during the events following the death of George Floyd. He currently serves as a member of the CBFNC Racial Equity and Justice Team. Adrian also has served as a featured collaborator in "The Gathering," CBFNC's official magazine during its spring and winter additions in 2020. He is also a 2020 receipt of the 25 Young Leaders to Know award from the Cooperative Baptist Fellowship Global.
In addition to his work with CBFNC Adrian serves in several other capacities including: Pastor, Beaver Dam Missionary Baptist Church (Clinton, NC); Campus Minister, United Christian Campus Ministry serving North Carolina Central University (Durham, NC).
Prior to his current position, Adrian served in the following ministry positions: Youth Pastor, West Durham Baptist Church (Durham, NC); Intern, Presbyterian Campus Ministry at North Carolina Central University (Durham, NC); Intern, United Christian Campus Ministry serving North Carolina Central University (Durham, NC).
He has degrees from Campbell University Divinity School in Buies Creek, North Carolina (Master of Divinity), and North Carolina Central University in Durham, North Carolina (Bachelor of Business Administration). He is also currently pursuing a diploma in Funeral Services from Fayetteville Technical Community College. During his time at Campbell University Divinity School Adrian served as the founding president and cofounder of the Black Seminarian Union.
While Adrian as a campus minister works to create bridges between college ministry and congregational ministry, he also has a strong bridge between CBFNC and the General Baptist State Convention of North Carolina. In GBSCNC Adrian serves as the liaison of the Young Preachers Network, which desires to connect young ministers across the state with connections to the convention. He was also appointed by its leadership to serve on the GBSCNC Executive Board.
In his scarce down time, Adrian enjoys architecture by building models, spending time with friends and family, sharing a good laugh, studying history (documentaries, short visits, etc.), refining his cooking/ grilling skills, and exercising his tennis and fishing skills.
Meet Our Campus Ministry Specialists
Jiquan Davis
Campus Ministry Specialist, West Region
James Dolph
Campus Ministry Specialist, UNC-Greensboro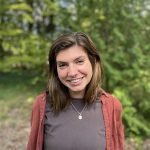 Chloe Hall
Campus Ministry Specialist, Charlotte
Justin Lockamy
Campus Ministry Specialist, Campbell University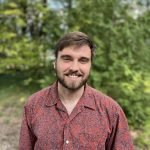 Will Sharkey
Campus Ministry Specialist, UNC-Chapel Hill
Paxton Vaugh
Campus Ministry Specialist, NC State University
Engage With CBF North Carolina
THEOLOGICAL EDUCATION SCHOLARSHIPS