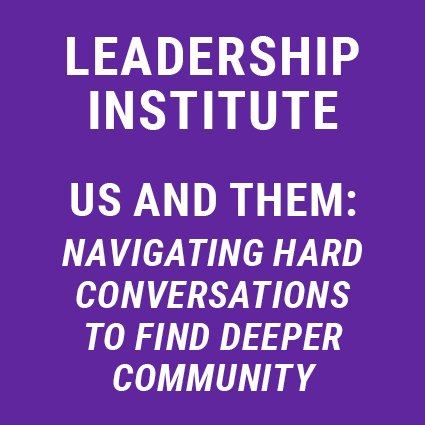 Leadership Institute: Us and Them: Navigating Hard Conversations to Find Deeper Community
In Acts 15, the church is arguing about whether circumcision is necessary for salvation in Christ Jesus, thereby excluding Gentiles from the people of God. Peter reminded the people that God had given the Holy Spirit to the Gentiles just as God did for the Jewish people, and God "made no distinction between us and them, having cleansed their hearts by faith" (Acts 15:9).
Us and them. These words seem to describe the present moment all too perfectly as differences in political persuasion, racial and ethnic identity, and sexuality create fissures and dissension within the church, friend groups and even families. These are the purity tests of today — those things by which we determine if someone is an "us" or a "them." Conversations about the things that divide us are hard and it is okay be tired and discouraged. But, God still has the whole world in hand, so the responsibility to "fix" everything does not rest on us alone. God is inviting us to participate in the bringing about of "on earth as it is in heaven." Even in the midst of burnout and fear, the Holy Spirit can draw us into deeper community across our differences.
Teesha will provide practical tools for engaging in hard conversations in ways that are healthy and sustainable, along with encouragement to continue the work of bearing witness to the coming kingdom of God.
Led by Teesha Hadra | Rector, Church of the Resurrection
Leadership Institute: In-Person Only at Trinity Baptist (Thursday, 10:00 a.m. – 2:00 p.m.)