Mid-Winter Collegiate Retreat 2024
02febAll Day04Mid-Winter Collegiate Retreat 2024
Event Details

February 2–4, 2024

Quaker Lake Camp, in Climax, NC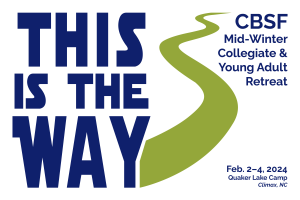 The Cooperative Baptist Student Fellowship (CBSF) Mid-Winter Collegiate and Young Adult Retreat is a gathering for young adults (undergrad & graduate age-levels) from college campuses and CBFNC congregations across North Carolina. It is a chance for young adults to grow in faith and relationships, building community across the state.
Mid-Winter Collegiate and Young Adult Retreat features large group worship, small group discussions, and opportunities for fun and recreation at Quaker Lake Camp, in Climax, NC.
Our CBFNC campus ministry staff will lead small discussion groups with the college students/young adults.  In addition, there will be free time in the schedule.
This year's theme is "This is the way…of Jesus." Our guiding scripture focus for the weekend will be from Luke 6.
Cost:
$60 for students/ministers (includes 3 meals and lodging in a cabin.)
$100 for ministers/representatives who want to stay in housing designated for leaders and exhibitors. Cost includes 3 meals and lodging. This option is only for ministers/representatives.
Schedule:
Friday, February 2 
6:30-9 pm
Arrival/Check-In
Fellowship & Activities
*Snacks provided
Saturday, February 3 
8:00-9:00 am
Breakfast
9:30 am
Session #1
10:30 am
Break
10:45 am
Session #2
12 pm
Lunch
1-5:00 pm
Break & Activities
5:30-6:30 pm
Dinner
6:50 pm
Group Photo
7:00-8:30 pm
Session #3
8:30 pm
Late Night
Sunday, February 4 
8:00-9:00 am
Breakfast
9:15 am
Session #4
11:00 am
Sending Out

What to Bring:
Sleeping bag, pillow, towels, soap/toiletries and Bible.
Registration closes January 26.
Time

february 2 (Friday) - 4 (Sunday)